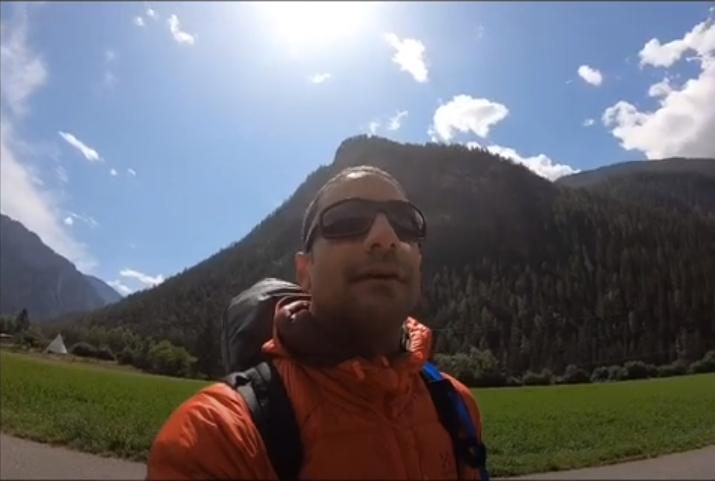 There's something about not knowing where or how your day will end. Will it be in a hotel room? Or alone outdoors? Will be in a hospital? And there's something disconcerting about knowing that between now and the end of the day you'll be doing something you're afraid of. Most of my life, when things go sour, I pull the plug, go home, go to sleep and the next day will be better.
This trip is teaching me that comfort isn't something available externally. Rather, I'm learning to find it inside myself. Walking up to a gnarly launch, feeling anxious about the sketchy conditions I comfort myself, knowing the decision is mine alone whether I will launch or not. As such, there is no danger as long as I don't make stupid decisions. It's also me who decides whether I've had a good day or a bad day. After all, when I find myself in some ordeal and feel sorry for myself, isn't that what I had wanted with this trip? I never assumed this adventure would be possible without episodes of suffering and hardship. At any given moment I could be at home watching TV on the couch. I decided against that, so who's to say I'm having a bad day except myself.?
That said… today was a good day. It needn't have been. I woke up to the sound of the wind howling. It was wet outside. I treated myself to a short but delightful breakfast and hiked up a mountain, although the sky was looking black in places and the wind was slamming in from the south. When I reached the summit, I was fairly sure I wasn't going to launch then and there. Too much wind from the wrong direction, scary directions at that. I put my pack down and waited. I am a slow thinker but I usually arrive at the right decisions. After a while I started preparing my gear to launch.
Here is the calculation I made: I know I can get off the ground. Despite the crosswind gusts. The problem will arise when I loop around to the north side, to the lee of this ridge. There will be a massive rotor; plenty of turbulence spiced up by the charged atmosphere that will result in storms later today. I consult the wind stations surrounding me: although from the wrong direction, none of them read above 40 km/h. Finally, I can enter the danger zone with almost 300 m between me and the terrain, which seems enough cushion should things go flaky. I launch and try coring a couple of thermals. I managed to make some altitude before losing my nerves.
I glide out into the valley and get some lift on the opposing slopes. Through the hot soup of the valley I land gently near Filisur. I pack up and start hiking in the direction of Albula pass as storms brew above me.