Loving numbers and going to chase world records,  I felt I was "obliged" to review some stats related to 500 kilometers flights:-)
So, I put all 500 kilometers in this Excel file and we are learning few interesting facts:
Before that the Brazilians show the potential of the Sertao, only one person pass the magic 500km. That was Nevil Hulett in South Africa in 2008.
Then, it took 7 years to see the Barzilians showing all their talent. They smashed the record by flying together and demonstrated that flying in gaggle helps to be more efficient.
Before 2017, only 10 flights beyond 500 km have been made. Then, the Swissleague and FlyWithAndy arrived in Caico with winches. It has been a game changer as from that moment, 37 additional 500km flights have been accomplished in 3 seasons only!!!
So far, 31 pilots passed the 500 km mark and only 14 pushed the game to 550km or beyond. See the table below: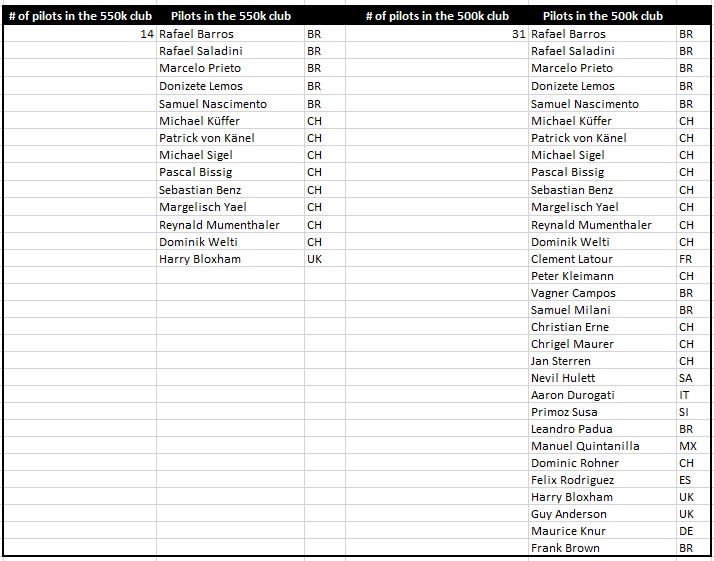 As we can see above, the 550km remains a Brazilian-Swiss club with a guest from UK, Harry Bloxham, who holds since last October the declared goal set at 510km.
2019 has been a crazy year as 23 flights above 500km have been made in one month only!!!!
For the Swiss League, it has been also a pretty successful expedition as 5 world records have been broken.
In 2019, we saw many "premiere". We all know that Yael Margelisch became the first woman to pass the 500km mark but her boyfriend, Clement Latour, became the first french pilot (and the only one so far) who also passed 500 kilometers. This is quite remarkable knowing the incredible level of paragliding pilots in France those days. Another "premiere" was that the 9 pilots part of the Swiss league flew at least one time during their 2 weeks in Brazil a 500 km flight. In addition, Assu entered in the 500km take off places.
Caico remains the "place-to-be" to make 500km flights. 27 "500k" flights have been made from there. This means, that approximately 7% of flights, which started from Caico go beyond 500km.

Finally, only few pilots managed to pass the 500 km mark more than once. See below the table. Worth mentioning that Michi Küffer managed to score 2 times a 500k flight in his first season in Sertao.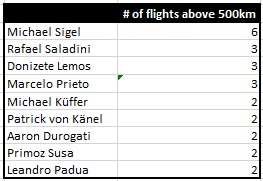 As we can see, Michael Sigel is "Mister 500 kilometers" with 6 flights in his bag. I know he will love swaping those 6 flights for one beyond 600km but this is already an amazing performance. Let's see what 2020 will deliver!